Focus on Serial Port & Network communication software.
$49

V 1.9.6.1428
N-Button Lite creates up to 16 widgets that float on your desktop to control external devices, send specified data, run applications, send HTTP requests or send data lists. It is smart control software for Serial Port, USB and Network connection devices.
It allows you to access and control the widgets remotely. Through internet browser, you can control your devices from anywhere with your computer, iPhone, iPad, Android tablet, Windows tablet as well as Linux and Mac.
N-Button Lite makes it possible to SMART CONTROL YOUR DEVICES WITHOUT ANY PROGRAMMING.
It supports special widgets for relay controller boards of National Control Devices and Robot Electronics, ENTTEC DMX devices and Velleman relay card.
It also supports customized button to control IP cameras and other serial port/USB and network devices.
N-Button Lite supports up to 16 widgets ONLY


N-Button Pro supports up to

256 widgets
---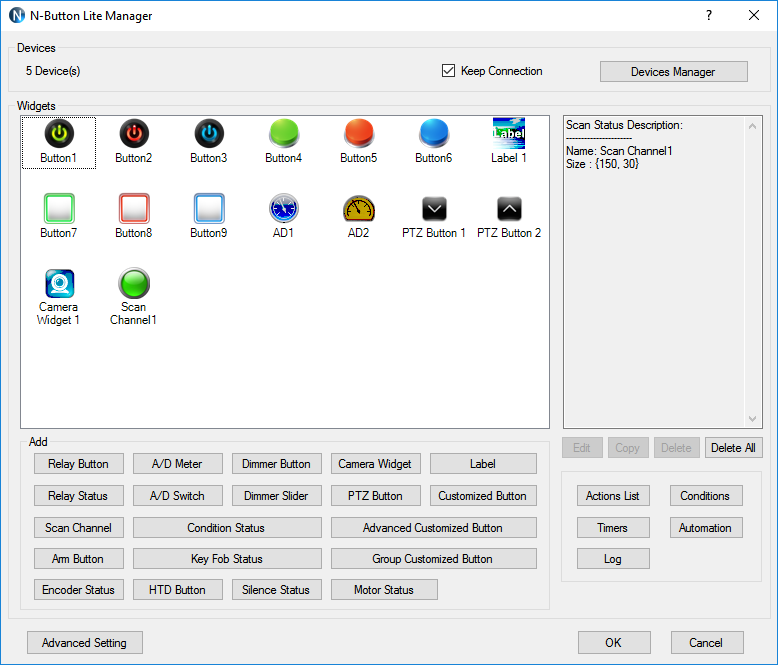 Create and modify widgets by N-Button Lite Manager.
Relay Button widgets: Turn relays On/Off directly. It was never so easy to control relays!
Relay Status widgets: Ddisplay status of the relay automatically.
A/D Meter widgets: Read and show the value of A/D channel automatically.
A/D Switch widgets: Show current status of A/D chanel when it's used as contact closure.
Scan Channel widgets: Read the contact closure inputs.
Dimmer Button widgets: Control brightness of lights.
Dimmer Slider widgets: Control brightness of lights with slider.
Camera Widget: Show real-time image from the connected AXIS, Bosch, Mobotix, or Panasonic IP camera.
PTZ Button widgets: Control Pan, Tilt and Zoom for AXIS, Bosch, Mobotix, or Panasonic IP camera.
Label widgets: Show static text or image on your desktop.
Condition Status widgets: Display current status for preset condition (Meet/Not Meet).
Customized Button widgets: Send specified command data to any connected devices besides relay boards. It can be set to open a file, a folder or a program, run any application or send HTTP request, etc..
Advanced Customized Button widgets: Control different devices at same time. Several actions can be added and each action can work for different device.
Group Customized Button widgets: Set several buttons/actions together and execute different action for each click.
Arm Button widgets: Set all created Buttons/Widgets to be active or inactive.
Key Fob Status widgets: Indicate released and pressed status of one Key Fob channel
---
---
FAQ
---
Control Relay Boards of National Control Devices without any programming!