The latest N-Button Lite/Pro supports Key Fob Status widget, which will display Key Fob button pressed or released status.

N-Button supports Key Fob of National Control Devices.  Every Key Fob should be paired with a KFX Receiver Module. The KFX Receiver Module must be plugged into the ZIGMO, which acts as an interface between your computer and the KFX Receiver.
| | | |
| --- | --- | --- |
| | | |
| Key Fob | KFX Receiver Module | ZIGMO USB Interface |
Here will show you how to use Key Fob Status widget in N-Button.
Step 1: connect KFX Receiver to your computer with ZIGMO USB interface.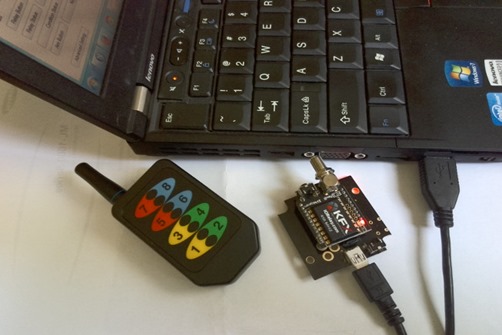 Step 2: add the connected Key Fob to N-Button Lite/Pro Devices Manager.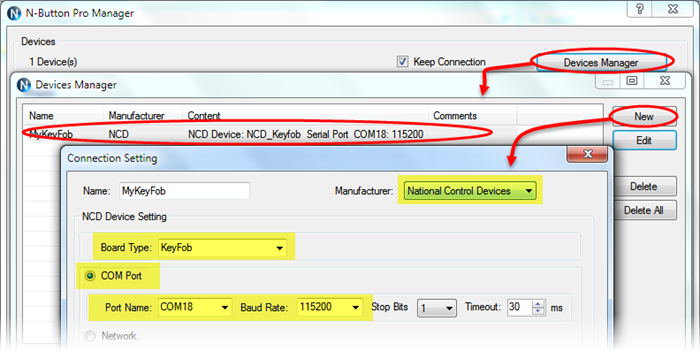 Step 3: click Key Fob Status on N-Button Lite/Pro Manager to show Properties – key Fob Status panel, and select Device, Button ID and Style for Key Fob Status.

Step 4: click OK to finish above settings, the Key Fob Status widget will show up on your desktop, press down the first button(Button 1) on Key Fob, the Key Fob Status on your desktop will turn to Green.
Note: the normal status widget will be green when the key fob button is not pressed, and change to Red when pressed. Here a special Status widget is added to Status Template, which shows Green once the key fob button is pressed.
Once you know how to use Key Fob Status in N-Button, you can set the Key Fob buttons to control other devices with N-Button Automation Key Fob Rule. That means you will add a hand-held remote controller for your devices controlled with N-Button.
See also: N-Button Automation Application: Control Device with Key Fob