PTZ Controller supports Sony VISCA protocol.  It works well with Sony EVI D30, EVI D70 and EVI D100 cameras respectively.
Sony VISCA protocol normally can support  a daisy chain of up to sever attached cameras. So, it is also available to control up to several Sony EVI-D series cameras with PTZ Controller.
You need to daisy-chain Sony EVI D series cameras one by one, and connect them to serial port on your PC by a VISCA cable (cross type, RS-232C). Camera address will be assigned automatically during the initialization of the network from 1, 2, 3 … to 7 in order, starting from the one nearest the computer.
Be sure to select Sony protocol in PTZ Controller main menu.
Be sure to select the right Com Port that connects with Sony EVI D series camera.
Be sure to select 9600 as communication speed (Baud Rate).
Be sure to select  the right Camera Address to decide which camera you want to control.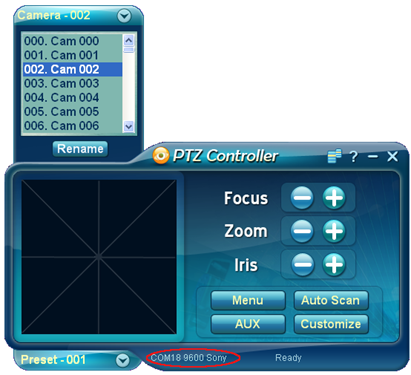 PTZ Controller also supports Auxiliary Commands for Sony EVI D series cameras, such as  Turn On/Off Digital Zoom, Auto Focus, Back Light and Wide Mode.