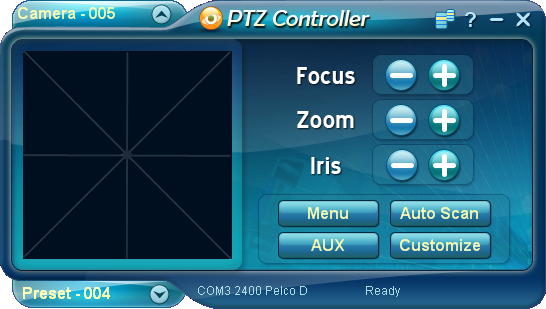 PTZ Controller is software to control high speed Pan Tilt Zoom camera through serial port.
PTZ Controller includes features below:
Support standard protocols for Pelco, AD, Bosch, Sony, Panasonic, Samsung, LG and Canon.
Support control for Pan, Tilt, Focus, Zoom, Iris and Menu.
Support flexible Auto Scan, which includes preset scan and auto pan.
Provide 10 auxiliary and 12 customized buttons in separate panel.
Capable of sending user-defined Hex data to PTZ camera.
Support keyboard shortcuts to control 255 camera addresses and 127 presets.
Support plug-in for gamepad, game joystick and PTZ joystick.
Detect all available serial port automatically.
Allow to export and import setting file.
Compatible with Windows 7.
FREE to try full function within 30 days!
PTZ Controller is a good debug tool for test and install PTZ camera. It is more powerful than traditional PTZ keyboard hardware.  
We are trying our best to support more PTZ cameras, and we provide customized service for other PTZ camera's protocols. Please feel free to contact us.