PTZ Controller software can be used to control not Pan Tilt Zoom camera only, but also Pan & Tilt heads. The control commands are sent out through RS232 serial port/USB of your computer to the connected devices.
Here will show you how to use PTZ Controller software to control  Metham Aviation Design (MAD) Bowler Range of Pan & Tilt Head (RS 485 version). PTZ Controller allows you to control Pan, Tilt and setting Preset, especially setting absolute position for Preset.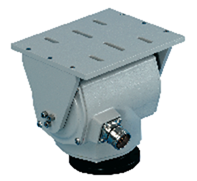 1. Be sure you have the latest PTZ Controller software installed or Download Here.
2. Read the user manual or operating instruction of MAD Bowler Pan & Tilt head carefully. You will get the connection information for connector binder (7-way).                                
Pin         Function
1             Not used
2             Data A
3             Data B
4             Not used
5             Not used
6             0v DC Power
7             +v DC Power (12v or 24v, please see product)
3. Connect the Pan & Tilt head to your computer with 7-way binder and RS485/RS232 converter, you may also need RS232/USB converter to connect to your USB port. Make sure the cable and converters work well.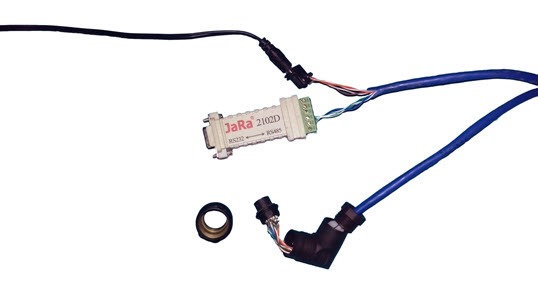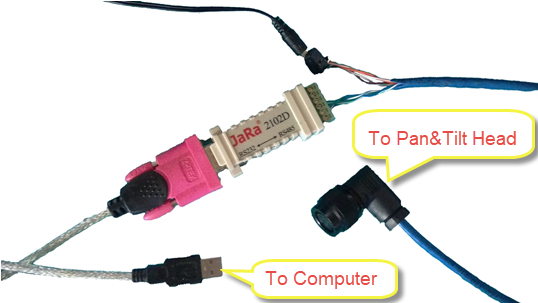 4. Launch PTZ Controller software on your computer.
5. Click menu Setting – Camera Manager… or click Settings button on right lower corner to open Camera Manager panel.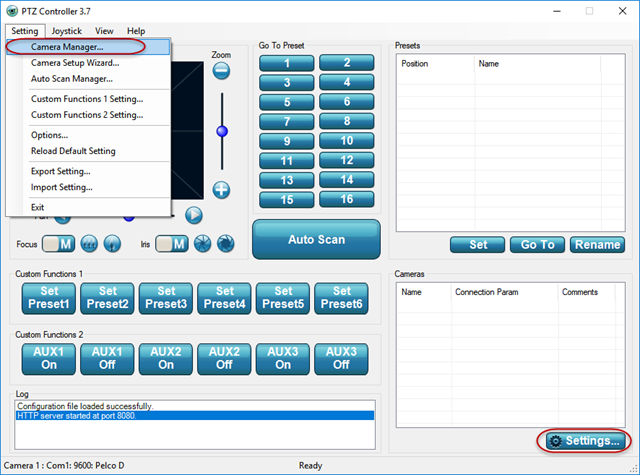 6.  Click New button to open Camera Setting panel. Input the Name and select the Communication information for MAD Pan & Tilt Head.
Address: 1
Protocol: Pelco D
Com Port: your COM Port number, which is connected with the head
Baud Rate : 2400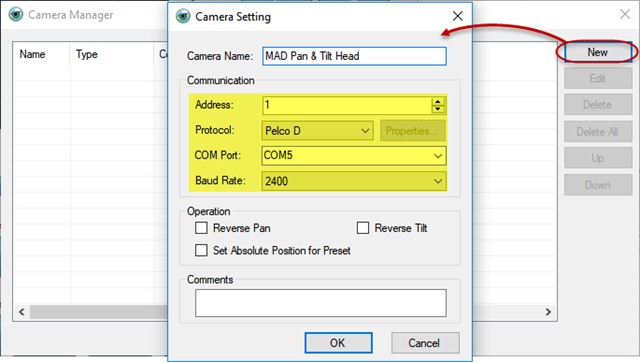 7. Click OK on both Camera Setting and Camera Manager panels. You will see the Pan & Tilt head is added. Now, you can control it by clicking Pan, Tilt buttons or sliders, or just click the black control area to move the position of the Pan & Tilt head. You can also control it with joystick, if you have one connected.
8. After moving the Pan & Tilt head, you can save or set the position to the Preset. Click one Preset, and then click Set button, or right-click the Preset item to show pop-up menu to click Set.  After changing position, select the Preset item you have set, click Go To will recall that position.
Note:
You can set position to Preset 1-50, which is stored in the Pan & Tilt head.
Preset 0 is factory set as a Home position. (Tilt platform will be horizontal, Pan axis will be in its center position.)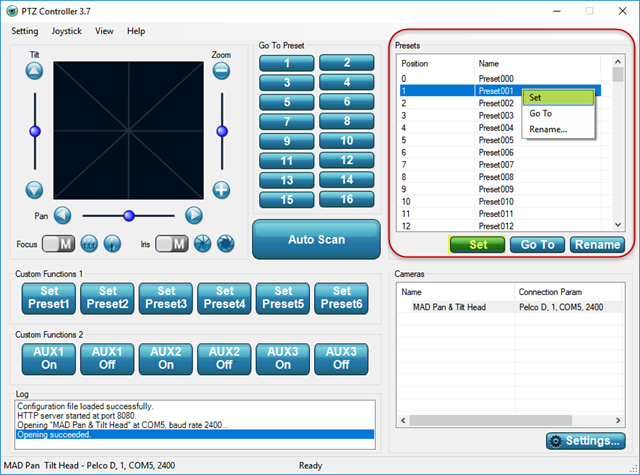 9. If you want set absolute position for Preset, double-click the device MAD Pan & Tilt Head to show Camera Setting. Check Set Absolute Position for Preset, click OK back to main panel. You can set absolute position for preset now.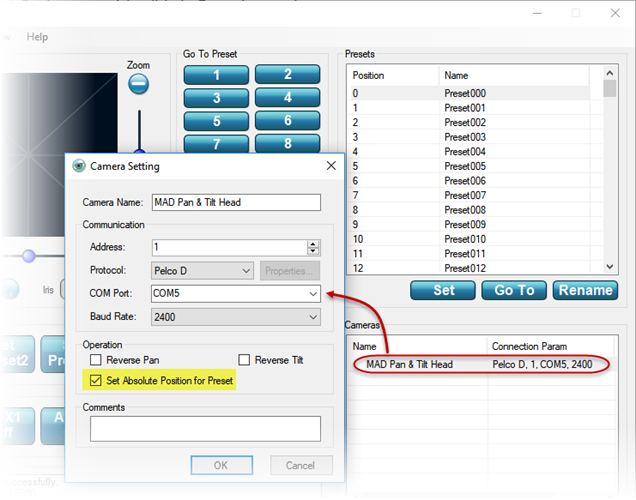 10. Select one Preset number, click Set button, Set Preset panel will be shown. The values shown on it indicate the current absolute position of Pan and Tilt. You can input the absolute position values you want for this Preset, and click OK to finish setting. Click Go To button, you will see the head moving to the absolute position.
Note:
When Set Preset panel shows up, it shows the current absolute position.
You can set absolute position to Preset 0-127, which is stored in your computer PTZ Controller software.
MAD Pan & Tilt Head  has limit stops for Pan and Tilt

Pan: 355 degrees
Tilt: +45 degrees (up) and  -90 degrees (down)

When you input value for absolute position

Pan: 0-355
Tilt: 360-315 (up) and 0-90 (down)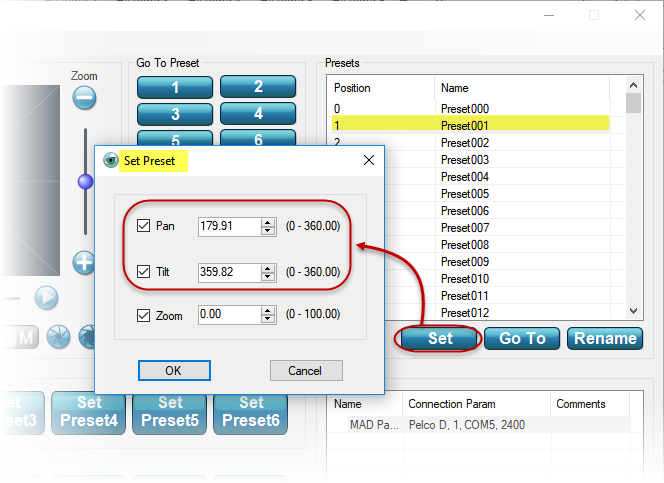 Here is a demo video for setting absolute position for MAD Pan & Tilt Head with PTZ Controller software.