Relay Timer is programmable timer software to control relay boards. It supports to connect and control multiple relay boards of National Control Devices, Robot Electronics and Velleman. Each relay board has a separate control panel with 16 relay channels. Powerful schedule setting make it much more easy to control relays manually and automatically.
Here will show you how to connect and control multiple relay boards with Relay Timer software.
1. Be sure you have the relay boards power on and  connected to your computer or network.
If the relay board has Serial Port/USB interface, you just need to plug the converter cable to your computer.
If the relay board has Ethernet interface, you need to connect it to your router first, and then log-in to your router to make sure it connected into the same network with your computer.

2.  Download, install and run Relay Timer software.  Click Configure button to add devices one by one.  Make sure to select the right Manufacturer, Device Type, Port Name and Baud Rate, or IP address for the relay board.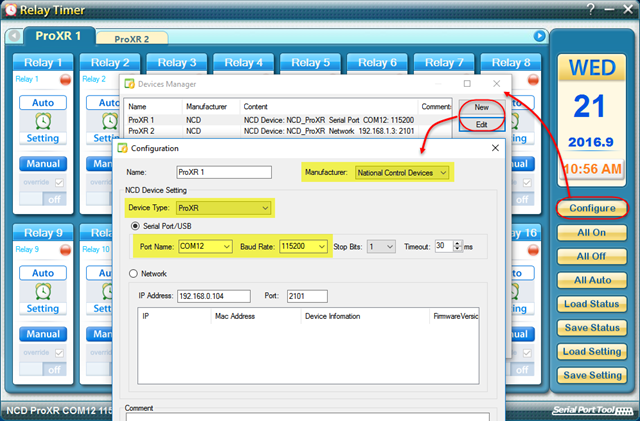 3. After above settings, the connection information and status for each relay board will be shown at the bottom status bar of each control panel.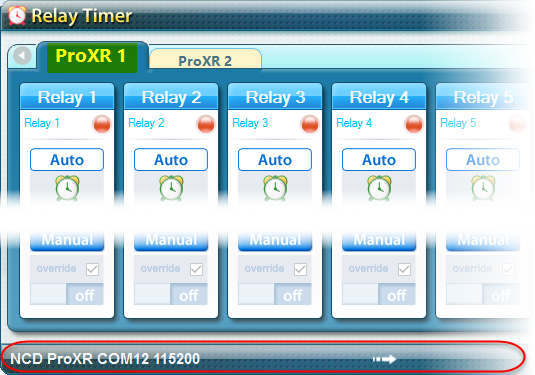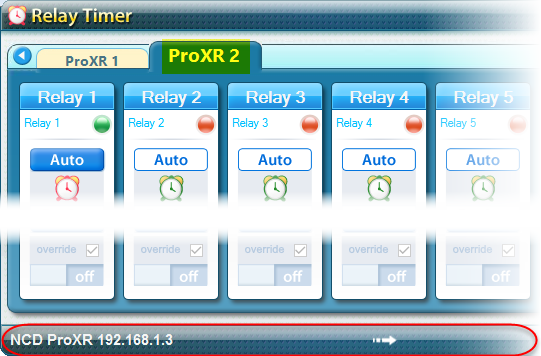 4. It's ready to control the relay boards manually or automatically.
Press down the Manual button to let the relay channel step into manual control mode. Click the switcher to Turn On/off relays.
Click Setting button to set up the schedule setting before you let the relay channel step in to auto control mode.
Check Override to allow the relay channel step into auto control mode after period or at fixed time.

5. You can also connect and add the relay boards from different manufacturers, which on the list supported by Relay Timer. There is no problem to add the relay board less than 16 channels. If the 8-channel relay board is connected, Relay Timer will work well to control the 8 channels.