N-Button Pro/Lite software supports to control Ethernet push notification board of National Control Devices.
To make Ethernet push notification board work with N-Button Pro/Lite:
1. Download and install the latest N-Button Pro/Lite software.
2. Plug in power and connect the Ethernet push notification board to the same network with you computer.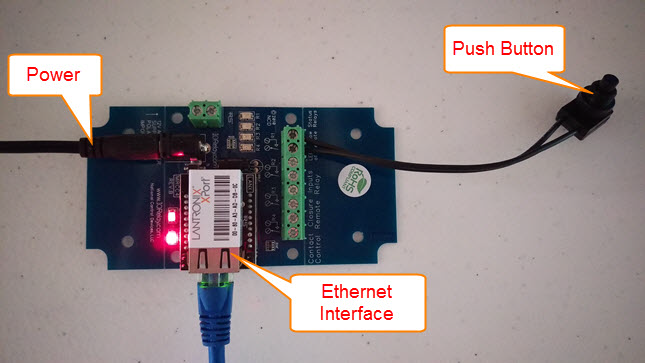 3. Run N-Button Pro/Lite software. Click Device Manager –> New to add Ethernet push notification board.
Manufacturer –> National Control Devices
Board Type –> Push Notification
IP Address –> It should be shown on the Discovered Network Devices list automatically. If not, you can input it directly as long as you are sure.
 TCP/UDP Port –> Keep default setting for TCP Port(2101) and UDP Port(3333).
Mac Address –> Input the Mac Address, which is on the Ethernet interface module.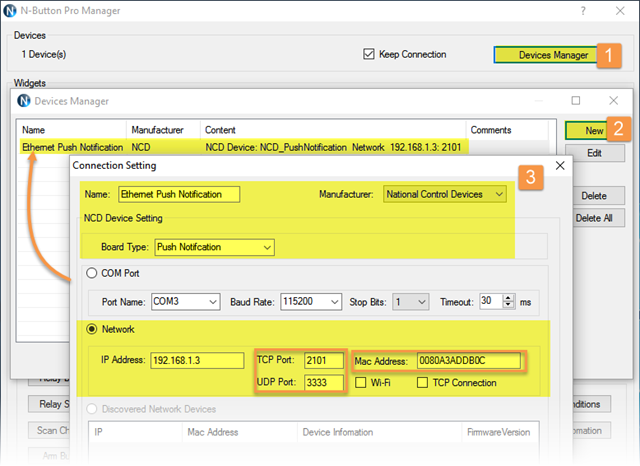 Note: Ethernet push notification board can be connected to more than one computer. If you have three computers have N-Button installed, run and connected with the board. The Ethernet push notification board will communicate with all off them if you set up like above.  If you have TCP Connection checked, the board will communicate with ONE computer only.
Click OK for above panels, and back to N-Button Manager panel.
4. Click Scan Channel to open Properties – Scan Channel. Select Device, Bank ID, Channel ID, Style for Scan Channel widget.
Click OK on both above panels. You will see the Scan Channel widget showing on your desktop with Red color.

5. Press the push button, you will see the Scan Channel widget on your desktop turns to Green. Release the push button, the widget turns to red again.

The Ethernet push notification board works with N-Button software now. You can have it to control other relay board or send text message or email.
See also:
Send Email/Text Message with Push Notification Board and N-Button
Set up Wi-Fi Push Notification Board with N-Button