N-Button Pro/Lite is designed to control Serial Port or Network devices without any programming.
(The Lite version only supports up to 16 control widgets. There is no limitation for the Pro version.)
N-Button already supports some Serial Port or Network devices, which include all Relay Boards of National Control Devices, Relay Boards of Velleman,  ENTTEC DMX devices, Digi zigbee modules, Mobotix IP cameras, Axis IP cameras, and Panasonic IP cameras.
All the devices supported by N-Button can be controlled with build-in buttons or widgets. Some buttons and widgets are added specially for those devices.
We would like to support more devices in N-Button. Please feel free to contact us if you want your device is supported by N-Button. support@serialporttool.com
Even your device is not list in N-Button, you still can control your device with N-Button
When you set Devices, you need select "OTHER" shown as below.

Then, you need select Serial Port/USB or Network for your devices.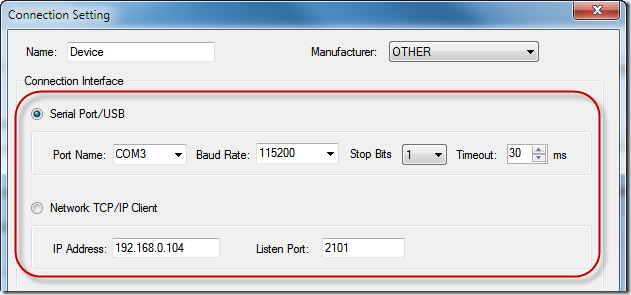 After setting devices, you can create Customized Button or Advanced Customized Button to control your devices.
There are several Action Types to control your Devices. Send Data, Send Data List, Send HTTP Request, etc..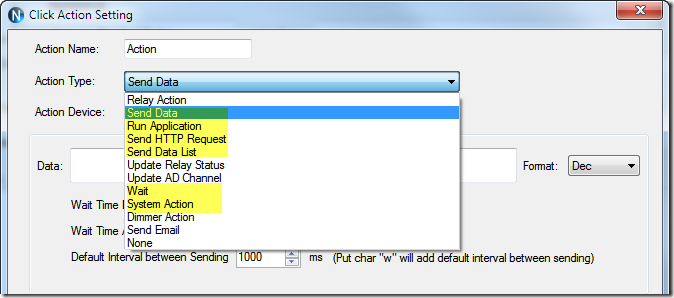 Customized Button only supports one action, while Advanced Customized Button allows you create an action list, that's several actions can be added to the same button. Once you click the Advanced Customized Button, it will run the actions one by one automatically.
Download N-Button Pro to try, feel free to contact us if you have any question.