Relay Timer  is programmable timer software to control ProXR relay controller boards of National Control Devices. It supports 1 ProXR relay board and up to 15 extension boards with 16-channel on each. It's fit for controlling lights, motors, pumps, bells, audio, video and other applications related with home automation, science experiment, industry control, energy conservation and so on. Powerful schedule setting make it possible to control anything!
You can control your relays connected with your computer locally. The relays can also be controlled remotely from other computer, because Relay Timer has a built in web server.
Here are the steps to access Relay Timer remotely.
1. You need run Relay Timer on a computer, here we call it Computer 1.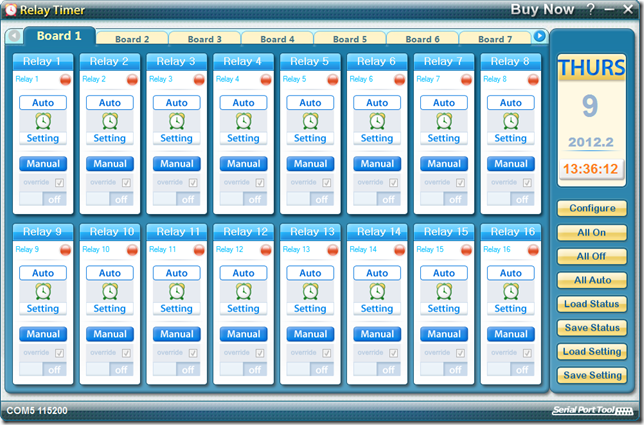 2. You need to enable the option "Remote Access" on Configuration panel.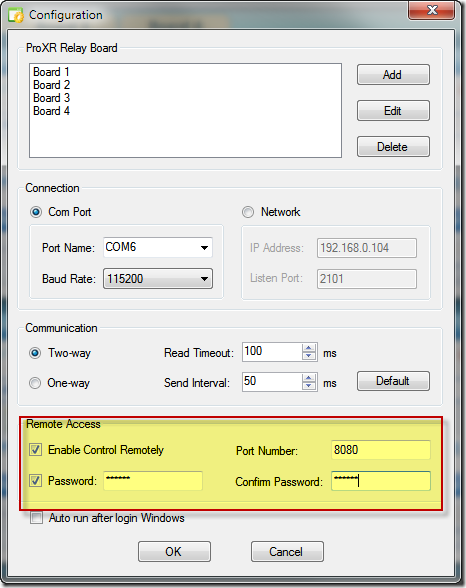 3. You need to get the IP address of Computer 1, here it's 192.168.0.35.
4. Then, you can access Relay Timer from other computer by visiting the IP address through any internet browser. You may be asked to input the password, if it has been set.
Now, you can control your relays from any other computer as long as the computer is connected with internet or private networks, such as your home or work network.
If Port Number is 80, you just need to type the IP address in the browser, shown as below. If Port Number is modified, you need add the number after the IP address, such as, 192.168.0.35:8080.