To control your PTZ Camera with our PTZ Controller software, you need connect your PTZ camera an the computer at first. You also need to set PTZ Controller to make it work. The basic settings include Protocol, Com Port, Baud Rate and camera Address.
How to Set Protocol
PTZ Controller supports multiple protocols, includes Pelco D, Pelco P, AD ASCII, AD Manchester, Bosch, Sony, Panasonic, Samsung, LG, Canon and Lilin protocols.
Please select the right protocol for your PTZ camera. If you are not sure which protocol your PTZ camera works with. Please try Pelco D or Pelco P. Most of cameras work with them.
Click Main Menu

–> Protocol to select a protocol.
The default protocol is Pelco D.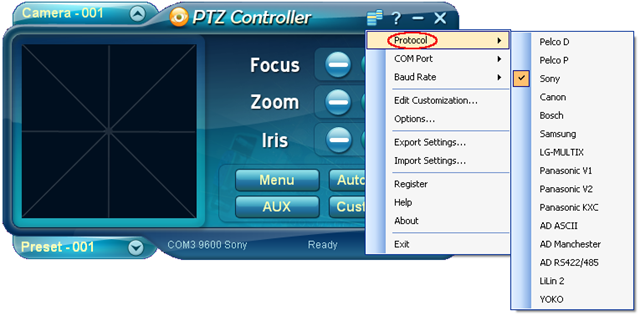 How to Set Com Port
Click Main Menu

–> COM Port to select an existing COM Port that connected with PTZ camera.
All available COM ports will be detected automatically and list here.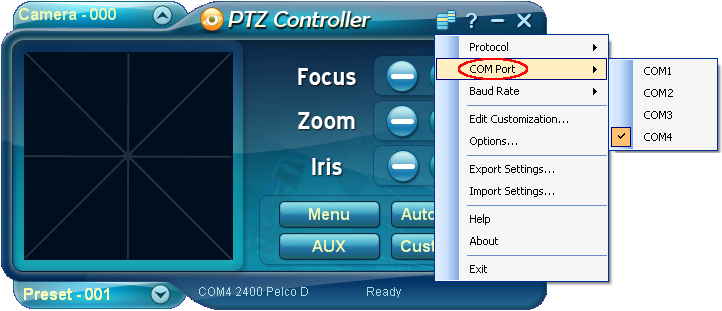 How to Set Baud Rate
Click Main Menu

–> Baud Rate to select baud rate for the COM port. It should be set according to the instruction of PTZ camera.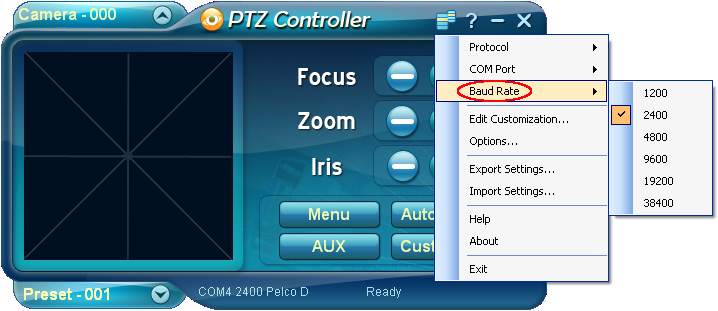 How to Set PTZ Camera Address
Click

button to show Camera Panel. There are 255 cameras in the list. All commands will be send to selected PTZ Camera. Meaningful name can be assigned to each camera.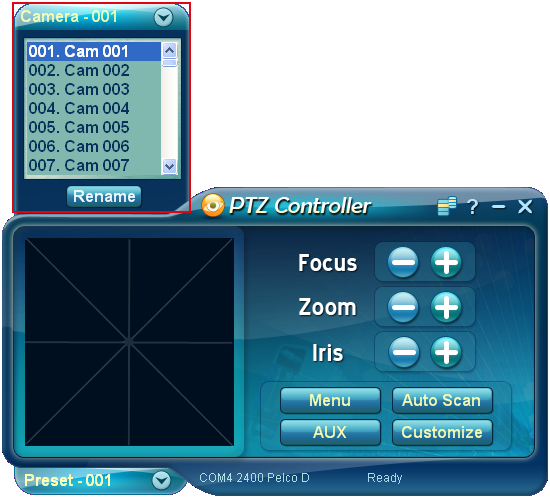 Back to PTZ Controller homepage
Tags: control PTZ camera, PTZ Controller, setting