PTZ Controller is PTZ keyboard simulator. It controls high speed Pan Tilt Zoom cameras through standard computer keyboard and mouse. It is more powerful than traditional PTZ keyboard hardware.  
It's totally FREE to try full function within 30 days!  Please download it to try, and make sure it works well before your order it.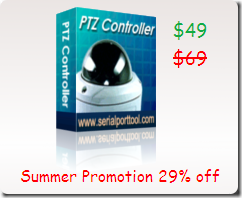 It's only $48.99 from now to September 30, 2011.
It's the lowest price for this year.