PTZ Controller supports standard protocol. For most PTZ cameras, OSD menu items can be selected on Menu panel of PTZ Controller.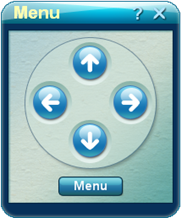 Some PTZ cameras are not fully compatible with standard protocol. Just like OSD Menu function, it is not a standard rule for every camera. 
Please try to select the OSD menu items by clicking Iris +/-, Focus +/- or Zoom +/-.
If you have control commands for your PTZ camera on hand, you also can add the commands to buttons on Customize panel of PTZ Controller.